25 YEARS - OASIS FANS CLUB 1996-2021
Concert for NHS Workers Original Poster
Oasis Fans Club and Madeleine Floyd proudly present a strictly limited edition of original concert posters from the Liam Gallagher gig for NHS workers that was held on Tuesday 17th August 2021 at the O2 Arena, London. Each poster is personally signed and numbered by the artist Madeleine Floyd and will be sent with a certificate of authenticity and a complimentary greetings card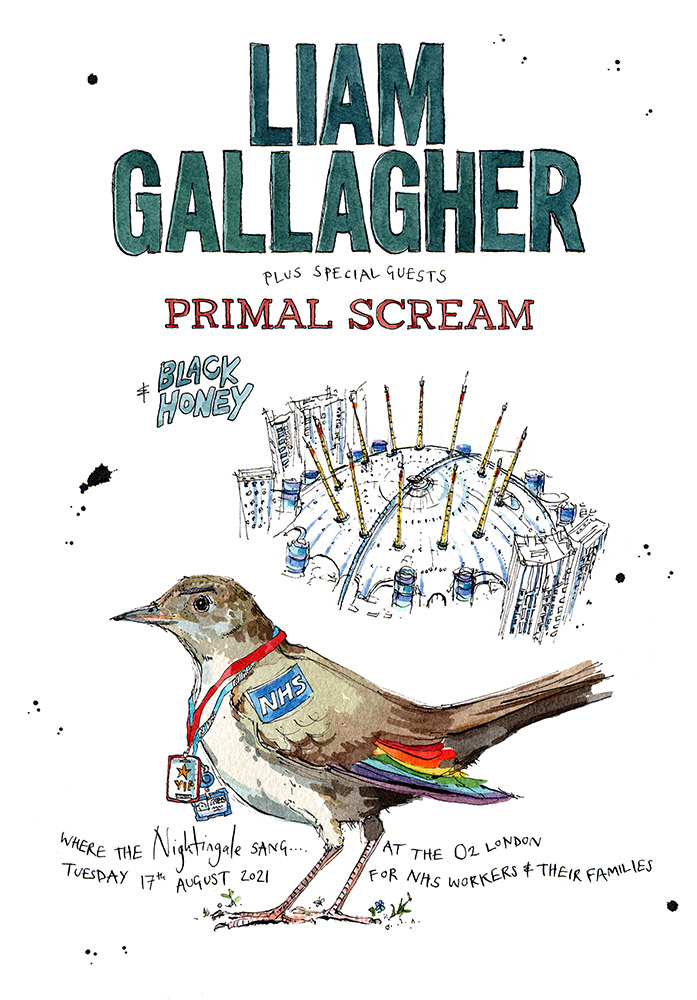 To celebrate the reopening of the O2 in Summer 2021 Liam Gallagher performed live on the night of Tuesday 17th August 2021 to an audience of NHS workers and their families.
Madeleine was commissioned to illustrate this tribute event and create a bespoke piece of artwork to be given to the band and to be released on merchandise on the night. All profits from merchandise sales were donated to the Florence Nightingale Foundation Charity.
Due to popular demand we have secured the last remaining 25 original concert posters from this one off event and Madeleine has kindly agreed to sign and number these collectors' items from this live event.
Percentage of profits will go to the Florence Nightingale Foundation. In response to the COVID-19 crisis, the Florence Nightingale Foundation helps NHS nurses and midwives with their Nightingale Frontline: NHS Leadership Support Service.
Location: O2 Arena, London
Date: August 17, 2021


Limited edition of 25 signed and numbered genuine concert posters


Size: 595 x 420 mm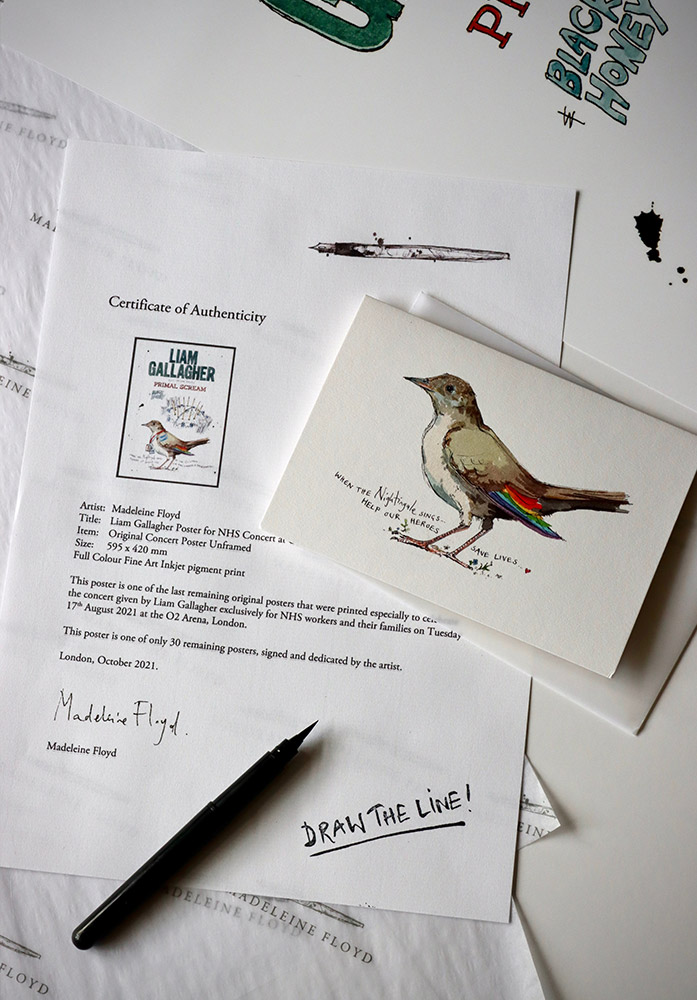 Sold Out
Limited edition poster run is now sold out.
Thanks to those who have purchased. As all copies of this limited edition are now sold out, it is currently impossible to order any more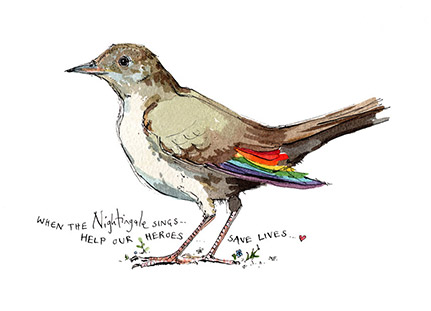 order terms
All prints are sold and shipped by Madeleine Floyd (madeleinefloyd.com)
Estimated time for delivery 14 days since payment
Each print comes with a certificate of authenticity
If you require any further information please email to info@madeleinefloyd.com
Percentage of profits will go to the Florence Nightingale Foundation
Madeleine Floyd is a well known fine artist and illustrator. At the beginning of the Covid-19 lockdown she posted a daily bird painting on her Instagram account @madeleinefloydstudio to lift morale.
With the opening of London's NHS Nightingale Hospital imminent, and in awe of medical staff across the UK, she painted a nightingale with rainbow wings of love, help and hope and a simple message: "When the nightingale sings... please stay in your nest". The image was spotted by one of the doctors responsible for setting up the London Nightingale hospital and from there the nightingale became a much loved emblem of medical teams across the UK.
As we emerge from the extraordinary months of lockdown we enter a new phase of recovery.
What is certain is that we shall never forget this time both from our own experiences and in our admiration of others who worked so tirelessly and bravely to help us get through.
The nightingale remains an optimistic and cheerful way to acknowledge those who have supported us all.
this exclusive Oasis Fans Club offer is valid for a limited time only