On May 17th 2022, Artpèges will auction the guitar broken by the Gallagher brothers at Rock en Seine, at the Hôtel Drouot, with Lemon Auction. The ES-355 TD 1960 was an essential instrument in Noel Gallagher's collection and has become the symbol of the split between Oasis's band members. After the accident, Noel Gallagher entrusted the guitar's restoration to French luthier Philippe Dubreuille. The now songwriter for High Flying Birds finally decided to part with his instrument that reminded him too much of the Oasis years.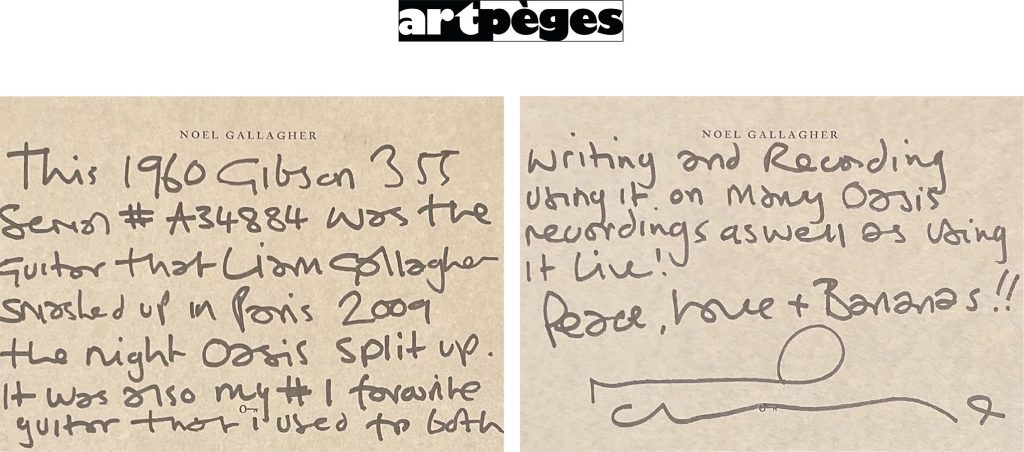 "Artpèges and Lemon Auction's teams wish to show that an object from the music world, instrument, print or NFT – like the one we are offering by photographer Claude Gassin – can become a unique witness and be part of our pop culture's heritage" declares Arthur Perault, co-founder of Artpèges.
"Artpèges gallery seeks out objects that can stand the test of time. Each object or instrument that you will discover at this auction belongs to the history of music, past, present and future. This is for example the case of Noel Gallagher's ES-355, symbol of Oasis's split-up, broken at Rock en Seine and repaired by luthier Phillipe Dubreuille. This guitar crystallises a specific moment in the history of music.
We are also happy to be able to share the work of artists and artisans who have managed to help us enter their world by looking to listen to music differently by using all mediums possible; records, photographs or stage wear. This work also reveals the world of music through the arts and professions that provide its livelihood." concludes Jonathan Berg, expert luthier and co-founder of Artpèges.
Update 18 May 2022: the guitar has sold for €385,500 (£325,000)