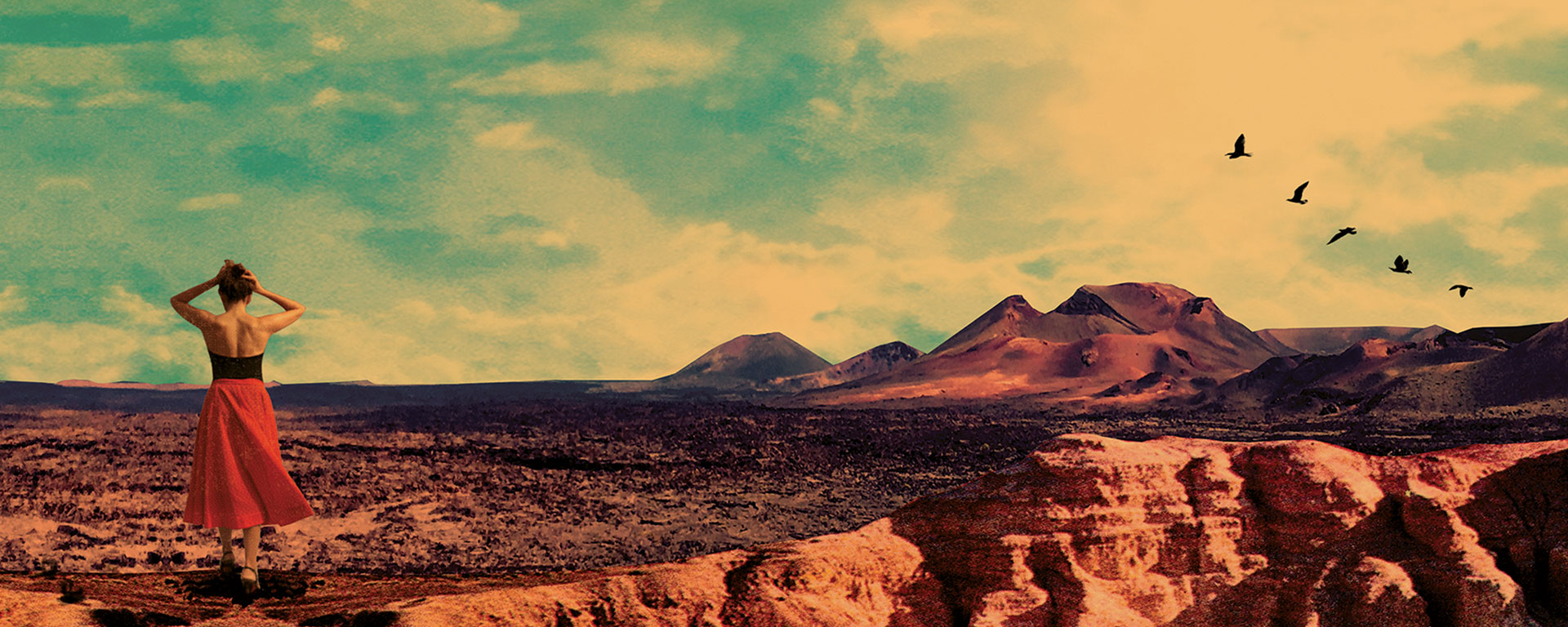 Born in 1979 in Hertfordshire, Gareth Halliday studied Fine Art at Northampton University, graduating in 2000. Soon after completing his degree, Halliday became disillusioned with the commercial art world and took a sabbatical of several years. It wasn't until 2009 when the artist turned his attention back to image making.

Having collected printed ephemera for over two decades, the artist is drawn to the otherworldly qualities of vintage photography and collage. Halliday utilises found images and a Dadaist and Surrealist sensibility to form worlds simultaneously possible and impossible. He contrasts the sublime with the terranean, altering perceived reality and creating his own unearthly dreamscapes.

Most recently Halliday produced artwork for Noel Gallagher's High Flying Birds album Who Built The Moon 2017 and the band's three E.P's released between 2019-2020.

2019 also saw Gareth collaborate and design artwork with Damon Albarn and Remi Kabaka of band's Gorillaz and Africa Express, creating work for both E.P MOLO and acclaimed Africa Express album Egoli.

Gareth has been part of several group exhibitions across London and had his first solo exhibition with Lazinc at The Outsiders in 2014. In 2016 Gareth collaborated with Adidas Originals on the re-launch campaign for the iconic Adidas Gazelle shoe.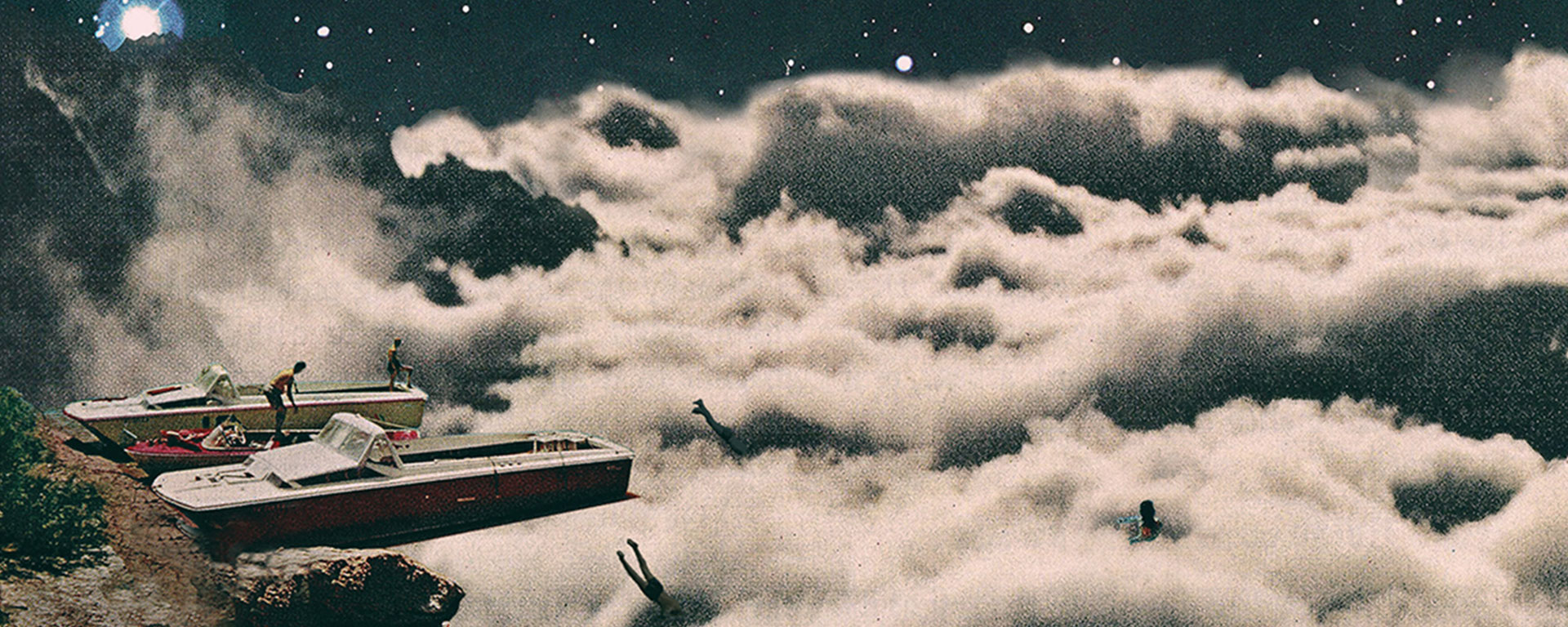 Gareth Halliday interview
by Fabio D'Antonio (October 2019)
© Oasis Fans Club. All rights reserved.
Tell us how did you start
I guess my little story is I went to Art school in the mid-late nineties. It wasn't until about 2010 that I got the bug back and started creating art again. Around 2013 I got involved in group exhibitions with other collage artists and we were showing over London on quite a regular basis. It was great, a group of like minded folk, all from different backgrounds, but all with the same passion working and exhibiting together. Everything has stemmed from there really.

Are your original collage done in digital or are them handmade? If in digital, which software do you use in the process?
All client based work is done digitally and in a way I prefer working digitally as more surprises and possibilities can be created. I use Photoshop and I also use Procreate and Pixelmator apps on the iPad pro. I used to be a painter and hope to go back to it some day. At this moment in time digital is more suitable to me.

Which artist or artistic current have influenced you the most? And today where do you draw inspiration?
Today I take inspiration from everything and anything. I'm 40 now so I'd hope that all the things I've digested at some point or another, have all blended into one foggy encyclopaedia. I can't think of one artist as there are so many who have influenced my over the years, but I'll name drop David Bowie, Jimi Hendrix, CAN, Beastie Boys, The Smiths, Stanley Kubrick, Henri Magritte, Andy Warhol, JG Ballard, Storm Thorgerson, Super Furry Animals, Flying Lotus, Clinic. I like things to be a bit surreal and psychedelic.

How did the collaboration with Noel begin and which characteristics about your works have fascinated him?
Noel saw one of my prints when he was recording with Gorillaz for their Humanz album. I wasn't even aware that my work was in the Gorillaz studio, so for Noel to buy my work was absolutely mind blowing. I was working on my delivery as a Postman when I got an email from Noel asking if I'd be interested in collaborating on artwork for his then upcoming album 'Who Built The Moon?' I was emptying a mail box at the time and I felt like I was in a surreal dream. I have no idea why he liked my work. We probably like a lot of the same stuff, musically, and maybe he saw that in my art, I really don't know as I've never asked.

Tell us about your experience on meeting the Chief
I met Noel at his record label Ignition Records and he was kind and himself. I think he could tell I was nervous but I think it went quite well. I'm glad I ignored the voice in my head going... "You're fucking Noel Gallagher! Do you know I brought a guitar and wanted to be a singer and songwriter when I was 14 because of you?". Noel put his faith in me, a completely unknown artist, and I will always be thankful to have that confidence boost from Noel.

So you are you an Oasis fans? Which is your favorite artwork, album and track off Oasis back catalogue.
Yes I am a fan. The first two albums were life changers as a teenager. I have all the albums and nearly all the singles from the first 4 albums. Definitely Maybe is my favourite album artwork, I think that's just because it feels a part of my youth, Nostalgia basically but it is a great cover nonetheless.
Second favourite artwork is Dig Out Your Soul created by Julian House, who is an exceptional sleeve designer. I love most of the work he's done. His collage art has been an inspiration since the work he done for Primal Scream's Vanishing Point and Exterminator in the late nineties. Favourite album is again Definitely Maybe, with WTSMG being a close second.
Favourite tracks are: Live Forever, Slide Away, D'Yer Wanna Be A Spaceman?, Half A World Away, Don't Look Back In Anger, Cast No Shadow, Champagne Supernova, Acquiesce, The Masterplan, Gas Panic!, The Hindu Times, The Importance Of Being Idle, Falling Down.

We love your work, think you've received many great feedbacks from Noel's fans. Isn't?
Thanks very much, I'm very grateful to have had the chance to create the work. It has been a dream come true really. The feedback has been very positive as far as I'm aware and I'm very happy about that!

Do you have a favourite artwork among those you created and why?
Probably the artwork for the Record Store Day release "Wait and Return E.P". I've heard Noel say in an interview before that the best songs fall out of the sky, from nothing. After finishing the artwork for Who Built The Moon? I became a father and put the artwork on hold for a year. So the artwork for this was created when my family and I were on holiday in Sicily (June 2018) and this one was created on the iPad while my baby daughter was having her 40 minute nap in the afternoon. Normally the best ideas come together very quickly.

What's your favourite track off "Who Built The Moon?"
It's a Beautiful World.