Noel Gallagher has discovered a previously lost Oasis song that has been released at midnight on Thursday 30 April.
The track is a demo of a song called Don't Stop …, which was never released or worked up into a studio recording. Gallagher tweeted that the only previous version of the song was from a recording of a soundcheck at an Oasis concert in Hong Kong "about 15 years ago", and that he wasn't sure of the demo recording's date.
He said: "I've had infinite time to kill lately so I thought I'd finally look and find out what was actually on the hundreds of faceless unmarked CDs I've got lying around at home. As fate would have it, I have stumbled across an old demo which I thought had been lost for ever."
He added: "Hope everyone is staying safe and trying to ride out the lockdown with a minimum of fuss. You're welcome by the way."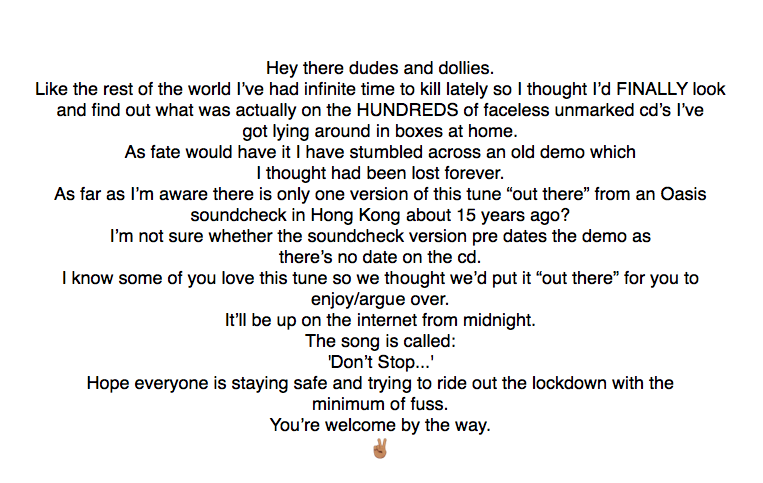 "Bye bye, my friend, I'm leaving," he opens, "I'm gonna feast on the stars in the sky." Anyone else get the feeling that Noel whiles away self-isolated evenings in a hot tub in the back garden, variously checking out the constellations and enjoying Sergio Agüero goal compilations on YouTube? Either way, in quintessential Oasis style, he later promises us that everything's gonna be OK: "Don't stop being happy / Don't stop your clapping / Don't stop your laughing… It's all right."
Even that classic, elliptical Noel song title points at the good times to come. A great little boogie-woogie guitar lick shimmies in at the three-minute-mark, after which he reminds us that we'll soon be "side-by-side". He might sound bruised, but this unearthed little gem does exactly what Oasis are supposed to: it rallies everyone together and exudes optimism. Of course, nothing's ever quite that simple, and Liam tweeted his reaction to the song: "There's something missing in this god almighty stew and it's your brother… don't forget your brother." Let's hope that, when all of this is over, there's room in that hot tub for two.
It's a bit 'Talk Tonight', with a shade of 'Half The World Away'. And it's somehow perfect for right now (NME)